Side-A - Subculture
Side-A - Fashion Slaves
Side-A - Nostradamus
Side-B - Don't Kill Colin#
Side-B- Wurst Band
N.B. Records - NB 1 (1979) 7" EP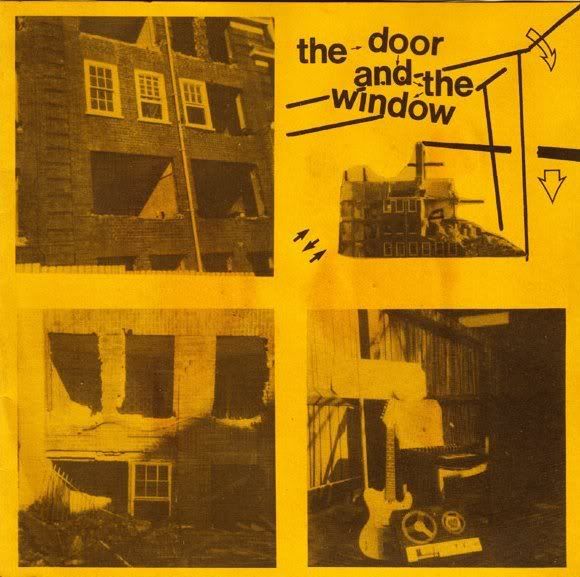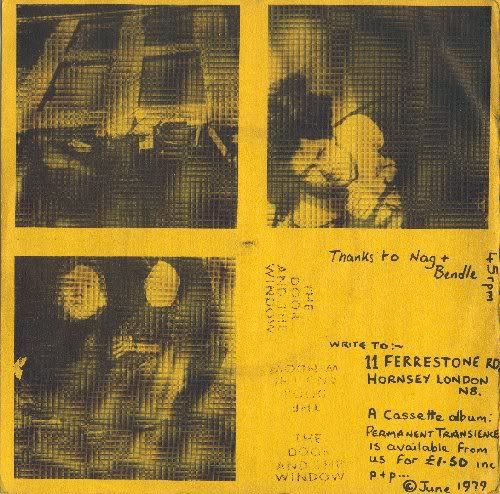 Side-A - Dig
Side-A- Production Line
Side-B - He Feels Like A Doris
Side-B - I like Sound
Side-B - Innocent
N.B Records - NB 3(1979) EP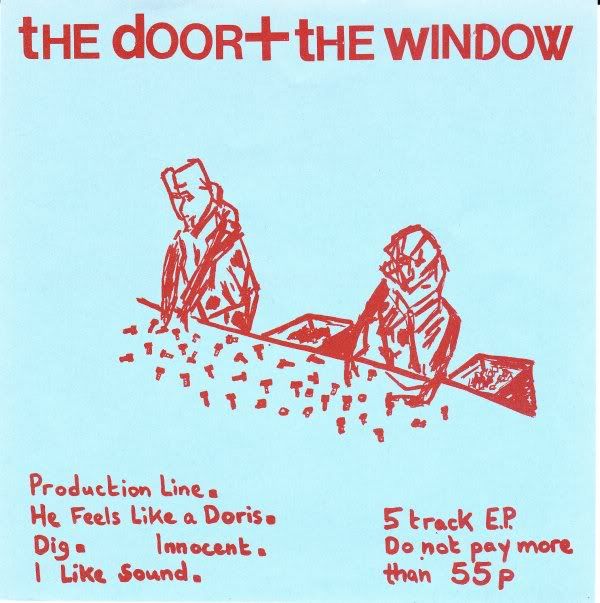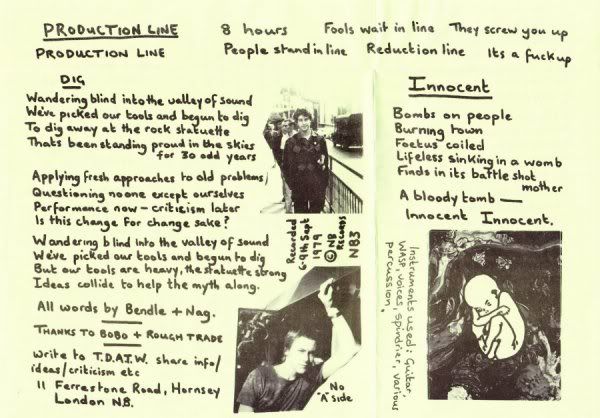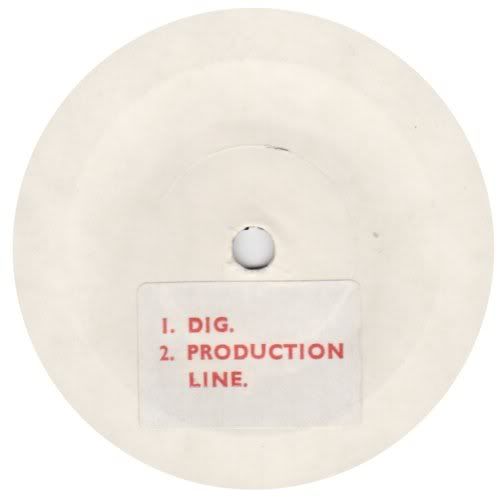 Detailed Twang
N.B Records - NB 5 (1980) Album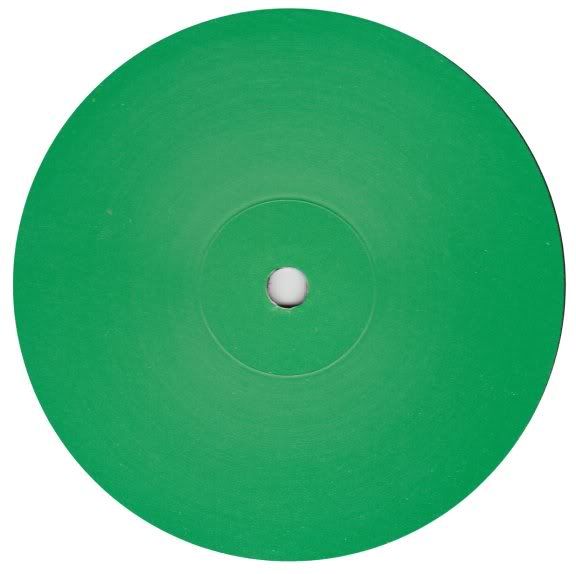 (A Cassette Version was released I've never seen a copy)
Detailed Twang
N.B Records - NB 6 (1980) Cassette
Detailed Twang
Overground Records -

OVER99VPCD(2002) CD
Permanent Transience
N.B Records - NB 2 - Cassette (1979)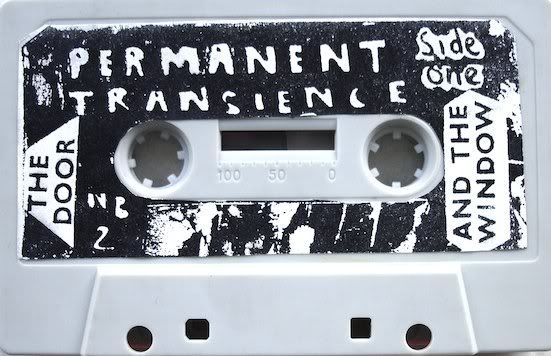 Music And Movement
N.B Records - NB 9 - Cassette - (1980)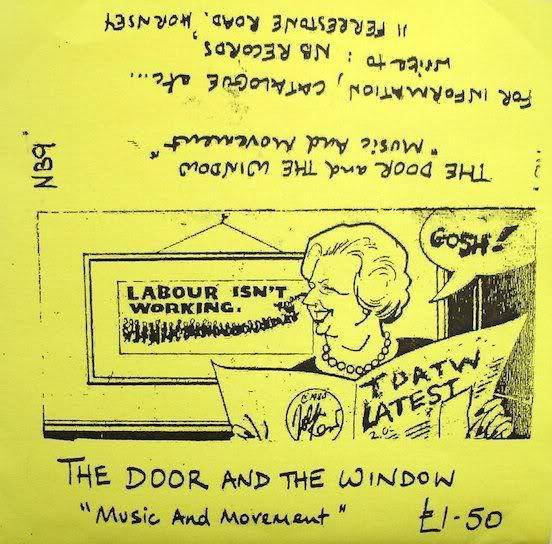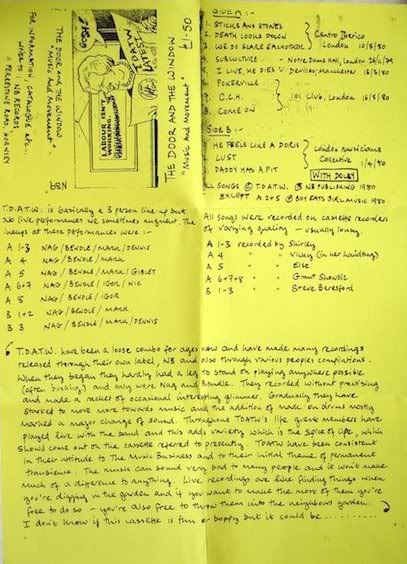 Dr Egg Live Recording Of The Door And The Window 1983 - 1987 CD.
Bendle
Optimism, Squirrel, Absurd - Cassette (1981)
N.B Records Catalogue List (Sent To Me by Bendle in 1980)
Bendle Link to other releases
http://bendle.bandcamp.com/
A TEMPORY SOLUTION - BENDLE
A 16 page booklet sent to me by Bendle it's hard to believe he sent this to me over 30 years ago.
Page 1.
THE DOOR AND THE WINDOW DISCOGRAPHY



Subculture/Fashion Slaves/Nostradamus/Don't Kill Colin/Wurst Band
N.B. Records - NB 1 - 7" EP (1979)
Dig/Production Line/He Feels Like A Doris/I like Sound/Innocent
N.B Records - NB 3 - 7" EP (1979)
Detailed Twang -N.B Records - NB 5 - Album (1980)
Detailed Twang -N.B Records - NB 6 - Cassette (1980)
Detailed Twang - Overground Records - OVER99VPCD - CD (2002)
Permanent Transience -N.B Records - NB 2 - Cassette (1979)
Music And Movement - N.B Records - NB 9 - Cassette - (1980)
Dr Egg Live Recording Of The Door And The Window 1983 - 1987 - CD (1983)



BENDLE

Optimism, Squirrel, Absurd - Cassette (1981)